Send and receive text messages with Threema Gateway (up to 3500 characters), images and files of any type with a maximum size of 50 MB to Threema users.

Threema Gateway is a prepaid service. After registration, you can test the gateway for free, recharge your credits and request your custom IDs. Credits can be purchased via bank transfer, credit card, PayPal or bitcoin. Sign up now.
Custom ID
Threema Gateway lets you request your personal, custom ID. All IDs that are used on Threema Gateway start with an asterisk (*) and consist of 8 characters in total. Example ID:
*THREEMA
. You can personalize your custom ID by setting a profile picture that is shown instead of the generic Business icon.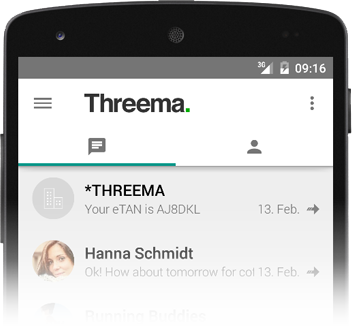 The Threema app displays Gateway contacts with a generic business icon and a custom profile picture.
Options
You can choose between two modes: BASIC and END-TO-END. Threema strongly recommends END-TO-END mode. It guarantees highest security and offers more features.

Switching modes is only possible at additional cost and the private key cannot be changed. Therefore, please carefully weigh the pros and cons of the available modes before choosing.
Encryption
by Threema
by customer (End-to-End)
Custom ID and profile picture
Message Types
Basic
End-to-End
Text message
1 Credit / from CHF 0.02
1 Credit / from CHF 0.02
Image message
-
2 Credits / from CHF 0.04
File message
-
2 Credits / from CHF 0.04
+ 1 Credit with thumbnail
Delivery receipt
-
1 Credit / from CHF 0.02
Pros and Cons
Basic
End-to-End
+ easy to set up
+ like an SMS gateway
- private key generated by Threema
+ best security thanks to end-to-end encryption
+ more features
+ private key does not leave customer's system
* Threema Gateway supports up to 3500 characters per message (SMS 160 characters only).
** The number of incoming messages must not exceed the number of outgoing messages by more than a factor of 10.
Price for credits
0.05 CHF / Credit (Message)
0.04 CHF / Credit (Message)
0.03 CHF / Credit (Message)
0.025 CHF / Credit (Message)
0.02 CHF / Credit (Message)
100'000 credits and more
on request (sales@threema.ch)
Important notes & Terms of Service
Requested Threema IDs that violate trademarks, copyrights or other rights or laws can be disabled by Threema at any time.
Threema does not provide a user interface for sending or receiving messages. The Message API is the interface to be used for that.
The use of the Threema Gateway is subject to the
Terms of Service
.